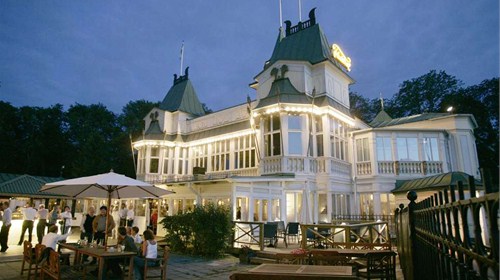 Uppsala's nightlife has something for all ages and all tastes. Unwind after work at a relaxing lounge bar, or why not try new beers and innovative drinks at one of the many bars. You might also enjoy one of the stimulating and good-value dishes on offer at a tavern, dancing to the sounds of talented DJs, or listening to a live band in historic surroundings. The choice is yours.
Agave
Serving Mexican food and drink in an intimate environment, you can enjoy Margheritas and other tequila-based drinks such as El Diablo, Flutter and Chimayo. There are also tasting evenings and live music at Agave, situated on Drottninggatan and Trädgårdsgatan.
Flustret
This long-established restaurant, beautifully situated by Svandammen and the City Park, has been enjoyed since the 1840s. Even today it attracts people of all ages for dancing, entertainment, food, and a refreshing drink. The restaurant features outdoor seating overlooking the City Park, while there are two dance floors, a nightclub and DJ, as well as after work events, among other things. It's also possible to reserve a table in the lounge.
London (Stationen)
Meet your friends over lunch, afternoon tea or an ice cream in an atmosphere reminiscent of the buzz of London. The bar's specialty is gin with an array of stimulating gin-based drinks and unique brands. Now and then, DJs show up to give impromptu performances that enliven the evening and rack up the pulse even further.
O´Connors´
This Irish restaurant and bar has a relaxed atmosphere and is situated on the main square. You can choose between 300 varieties of whisky and 1,000 varieties of beer. There's also live music every night, often with some spontaneous dancing between the tables. There are also beer tasting sessions and a loyalty bar that offers a relaxing corner to try some more exclusive beers. Open seven days a week.
Oasia
This Asian-inspired venue in the old city hotel is an experience for all the senses. Try stimulating Asian dishes in the restaurant, or relax with a drink and some tasty dim sum in the atmospheric cellar. Alternatively, why not mingle in the lounge bar or dance to the latest music from a talented DJ.
Plock
This well-frequented bar is popular for after work tapas in laidback lounge surroundings. Drop in for a coffee or drink, or enjoy dinner here too. Plock is situated in the middle of the city in Galleria Dragarbrunn adjacent to Dragarbrunns torg.
Saluhallen
Natt@Saluhallen is the city's biggest nightclub offering music and light effects of world class where, on Saturdays, you can dance at the hands of talented DJs until you drop. The club is centrally located in the Saluhallen adjacent to the River Fyris.
Birger Jarl
This nightclub and restaurant has a wonderful location at the foot of the castle with views across Svandammen the swan pond. You can dance to the latest beats or hang out in one of the bars with a cooling drink. There's a large outdoor area in the summer with music, a bar, and lounge areas. Birger Jarl is nicknamed BJ among locals.
Katalin And All That Jazz
One of Sweden's top music venues that attracts popular artists who perform in close proximity to the audience. There is a wide selection of Czech beer and food with a twist in rough but homely surroundings in Godsmagasinet adjacent to the transport interchange.
Magnussons Krog
A tavern with attitude and something to suit every time and occasion. Here you can drop in for a snack, eat lunch in spacious surroundings, or while away the whole evening. Perch yourself at the bar, have an appetiser, and tantalise your taste buds as you choose between dishes of various sizes. There's also a popular after work event on Fridays, or chilled-out Sundays with cheese, wine and other goodies.