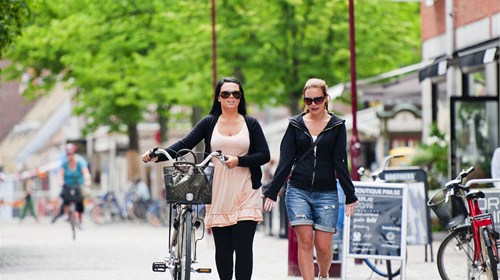 Ängelholm is excellent for shopping with department stores as well as exclusive boutiques with clothes, pottery, handicraft, glass and china, interior decorations, furniture, and much more on offer.

The city is particularly known for all the nice fashion business with real and personal atmosphere. There are many small stores with exclusive brands and fun design. Even well-known chains are in the range such as H&M etc.

The charming downtown area is well defined and the pedestrian zone makes it possible to stroll at leisure, shopping can be interspersed with visits to a nice restaurant or a cafe. In the countryside you can find galleries, antique shops and farm shops.

Ängelholm was approved as a Fairtrade City in the spring 2010.

Ekhems Gårdsbutik
Ekhems Gård, at the beautiful Bjärehalvön in the south of Sweden, has a well assorted farm shop. You can find very delicate unique potatoesorts, vegetables, berries and fruits of the season. On the shelves you can also find many tastes of homemade fruit/berryjuice, jam and marmelade. The store is open 8-20 throughout the year.