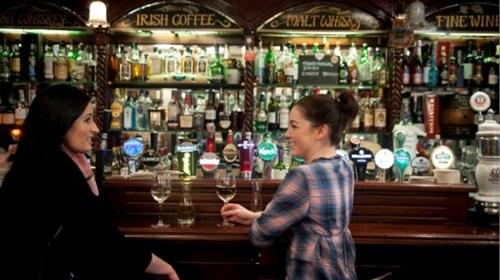 Cork has a lively nightlife and no trip to the city is complete without a visit to one of its many pubs. The city has become trendy and cosmopolitan over the past few years, as reflected in the airy, sophisticated bars which have sprung up. But there is no shortage of cosy, friendly pubs with a fire in the grate and a welcoming pint of Guinness in the bar. Cork has a vibrant music scene, and several pubs have a regular weekly spot for house bands or spontaneous trad sessions.
The Mutton Lane Inn
Dark and comfortable venue with candlelit tables and traditional music every Monday night. Good selection of beers, both local and foreign.
An Bróg
A favourite among diverse groups of Corkonians, An Brog is a bar open late seven days a week and provides live music. Gets very packed during the student year.
Bodega
A large converted warehouse with whitewashed walls, wooden floors, exposed beams and rotating exhibitions. One of the busiest weekend spots.

-"The Bodega @ St. Peter's Market is Cork's most elegant venue for eating, drinking and dancing, Housed in the St. Peter's Market building in Cork's historic Coal Quay, the Bodega has timeless appeal."
The Hi-b
A tiny room up old creaking stairs, the Hi-b attracts all sorts and is friendly and welcoming to newcomers. Be prepared for intimate conversations with strangers! Live jazz piano on Wednesday nights.
The Phoenix
The Phoenix offers regular live music slots and spontaneous trad sessions. It provides a relaxing vibe and friendly staff. A place with great music for all.
An Spailpin Fanach
Atmospheric old looking pub with lots of nooks and crannies. Good place to catch a spontaneous trad session. Are open seven days a week.
The Half Moon Theatre
Located at the rear of the Cork Opera House, the Half Moon Theatre is a late night music venue hosting bands, DJ's, comedy and alternative theatre.
Savoy
Located on Cork's main thoroughfare, the Savoy attracts a mellower late night crowd than some of the other clubs. The décor maintains the feel of its original function as a cinema with dim lighting and plush red curtains.